Published April 6, 2020
Staff Spotlight: Mitch Barns, Former CEO of Nielsen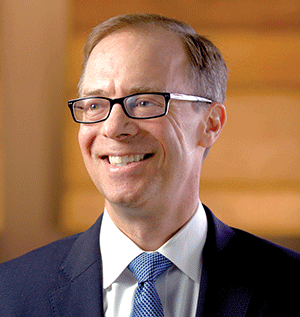 Mitch Barns, former CEO of Nielsen and Global Leadership Network board member, recently transitioned into a role on our staff and we couldn't be more excited to have him on our team. Mitch is a natural teacher with an analytical mind and an ability to take in a lot of different information while discovering connections and simplifying those connections with clarity.
Launching from his small-town beginnings, Mitch's career started at Procter & Gamble, and later brought him to Nielsen. Under his leadership, Nielsen was named one of the "Best Run Companies" by the Wall Street Journal, and one of the "Top 40 Companies for Leaders" by Chief Executive Magazine.
We are honored to have Mitch bring his wealth of leadership expertise and heart to ignite positive change to our world as he takes on the role of helping the Global Leadership Network with its strategic planning and its digital products.
We asked Mitch about his first experience with The Global Leadership Summit, what he's looking forward to as he comes on staff, and his biggest leadership learnings along his journey.
When was your first experience with The Global Leadership Summit and what was it like?
When my family moved to Chicago in 2004, we moved near Willow Creek Community Church where the Global Leadership Network hosts the Summit every year. My wife Sharon worked at the church's bookstore and brought home CDs from the Summit. I downloaded them onto my MP3, and it wasn't long until the spark was lit.
I decided to attend the Summit live in 2005 for the first time, and I've attended every year since. Later when my family and I moved to Shanghai for my job, we helped bring the GLS there too. I was the finance director for the Shanghai GLS team and I probably drove Aliece Hendricks [GLN's Vice President of International Conferences] crazy!
What was your biggest takeaway from the GLS?
I used to think that eventually you learn what you need to learn about leadership, but soon I realized leadership is not a destination, but rather a journey of constant learning. There's always something that needs to be said that hasn't been said yet. And there's always something that has been said that needs to be said again, better, or in a more contemporary way. And that's why I keep going to the Summit each year.
…soon I realized leadership is not a destination, but rather a journey of constant learning.
What made you decide to join the staff at the Global Leadership Network?
When I left Nielsen in 2018, I looked for various positions where I could add value, but nothing seemed to align with what I wanted to do. There was always an excuse as to why it wasn't the right thing.
And then I talked with Gary Schwammlein [President Emeritus] about the Global Leadership Network. The idea of coming on staff aligned better with what I wanted to add value to—having been a supporter and a board member for several years, I have a heart for the mission and the value of leadership to help everyone thrive. What is happening through the Summit all around the world is exciting and getting to be a part of those stories and the outcome is why I'm here.
What is the most surprising thing you've learned about leadership?
Leadership is simple—not easy, but simple. It usually comes down to a few key points—one of them being clarity of direction. When I was CEO of Nielsen, the company had 45,000 employees.
One of my greatest learnings as CEO is that my jokes were funnier when I was CEO than both before and after I was CEO! And in that little piece of humor is also contained a little wisdom and warning for all of us as leaders, which is that we have to resist the artificial bubble of leadership and stay grounded in reality, truth, and authenticity.
…we have to resist the artificial bubble of leadership and stay grounded in reality, truth, and authenticity.
Another one of my most important learnings is that the role luck plays in our success is larger than most of us realize or are otherwise willing to admit. Recognizing the role luck plays in our success carries at least two big benefits: 1. It keeps us humble, and humility is an essential trait for a good leader; and 2. It keeps us resilient. If some of our successes are a result of luck (vs. only our hard work and brilliance), then the same is true of some of our failures, and when they occur, this recognition encourages us to pick ourselves up, keep moving forward, and try again.
Finally, my most important learning of all was that while the world will judge us by our outcomes, we will ultimately judge ourselves by the quality of our motives, the quality of our decisions, and the wake we create for the people around us. When I force myself to be quiet and still and I take a long look in the mirror, I see the truth. Do I like what I see? This ultimately will be more important to me and the people I care most about than anything else.
How do you lead a team that produces results?
The best team I ever led was in Shanghai, China. There wasn't anything extraordinary about the individuals in this team. But as a team, they produced extraordinary results. Why? They had a non-zero-sum mindset, meaning they put the interests of the team ahead of their self-interest. They were in it for the greater good. With this type of mindset, everyone wins. I led this team by providing crystal clear direction, plus support and encouragement along with accountability, while continuously reinforcing the greater good we were striving for.
What do you do or think about for inspiration when you feel discouraged?
I don't often feel discouraged. When things aren't going well, I usually see it as a time when there is something important for me to learn. Learning is positive for me, so a negative experience points me to learn which turns it into something positive.
I should admit that I haven't always been inclined to this optimistic mindset. I remember one summer during college when I went on a trip to India. I had a horrible time—I got very sick, the group I was with was robbed, we were on a boat that took on water and partially sank in the ocean during a storm, and our host died during emergency surgery…all of that in the first two weeks. It was an awful experience. Before the trip, I thought I could handle anything, but here I was, completely overwhelmed and miserable. It was very humbling and had a big impact on me for many years after. In fact, I now consider it one of the best experiences of my life. Now I almost look forward to the next difficult period of my life because now I know how experiences like these shape and sharpen me.
One of my favorite quotes that captures this idea is by Abigail Adams, from a letter she wrote to her son before he left on a voyage across the Atlantic. She was writing to prepare him for the difficulties ahead. She said,
"There are times in which genius would wish to live. It's not in the still calm of life or the repose of a pacific station that great characters are formed. The habits of a vigorous mind are formed in contending with difficulties. Great necessities call out great virtues. When a mind is raised and animated by scenes that engage the heart, then those qualities that would otherwise lay dormant wake into life and form the character."
I think that is beautiful.
If you were to write a book about leadership, what would you write about and why?
I would write about the non-zero-sum leadership mindset, and the idea of working for the greater good. I would also write about luck. Leadership outcomes often have more to do with luck than most people are aware of or willing to acknowledge. A recent paper by some Italian academics provides solid evidence of this, as do three books, one by Robert Frank called Success and Luck: Good Fortune and the Myth of Meritocracy, another by Annie Duke called Thinking in Bets, and a third by Michael Mauboussin called The Success Equation: Untangling Skill and Luck.
If we want to learn how to improve our leadership and influence, it is important to separate the quality of our decisions from the quality of our outcomes, which can be muddled by luck, both good and bad.
One last question. What is one thing people would be surprised to find out about you?
My ring tone starts out as a typical smartphone ring tone then it transitions to the song, Gangsta's Paradise by Coolio. I think it fits me: conventional, but then not. I've always been a fan of R&B and funk music. I grew up in southwestern Ohio which lays claim to artists like George Clinton, Bootsy Collins, Funkadelic, Parliament, The Isley Brothers, and The Ohio Players. I don't pay much attention to the lyrics, but I like the music.